Senior School
St John's Grammar
Our graduates not only develop the knowledge and skills that will enable them to be world class, lifelong learners but also the values and dispositions to be amazing young people, who are service-minded and share a willingness to contribute to the world they live in.
Both independent and collaborative learning are fostered through the Senior School years with extensive education and support provided through our Wings pastoral program, House staff, curriculum leaders and 1-to-1 careers counselling. Students develop the study skills and habits to thrive in their final years of schooling, creating opportunities for their future pathways beyond school and achieving their personal best.
Our Senior students are actively encouraged to continue their involvement in extra curricular activities. We believe that by providing these opportunities our young adults grow in school spirit, teamwork, maturity, independent thinking and in social responsibility. At the same time, they develop a greater sense of belonging to their School, and to their peers.
Throughout the Senior School journey there is a strong partnership between home and school, as together we enable students to realise their potential. Our personalised approach recognises that each student is unique, values the development of the whole person, and understands the key adolescent growth and development that occurs in their Senior years.
For specific information about initiatives offered at each year level, visit The Journey.
The academic curriculum in our Senior School is broad and challenging. Students are able to complete the South Australian Certificate of Education (SACE) and undertake Vocational Education and Training (VET) pathways. The academic curriculum comprises a comprehensive selection of electives in Year 10, and over twenty subjects for SACE Stage 2 (Year 12).​
Enhancing our curriculum are several special programs to expand learning opportunities and provide individualised learning initiatives. These include our Innovative Agency Framework, Exceptional Learning Program and our Wellbeing Program. A comprehensive list of extra curricular activities also offers a range of opportunities for fun, challenge and exploration.
We are committed to creating personalised pathways for our students and recognise that the Senior School journey will likely look different for every student. Extensive subject and career counselling and education occurs throughout the Senior Years, guiding our students to pursue their passions and create their own futures.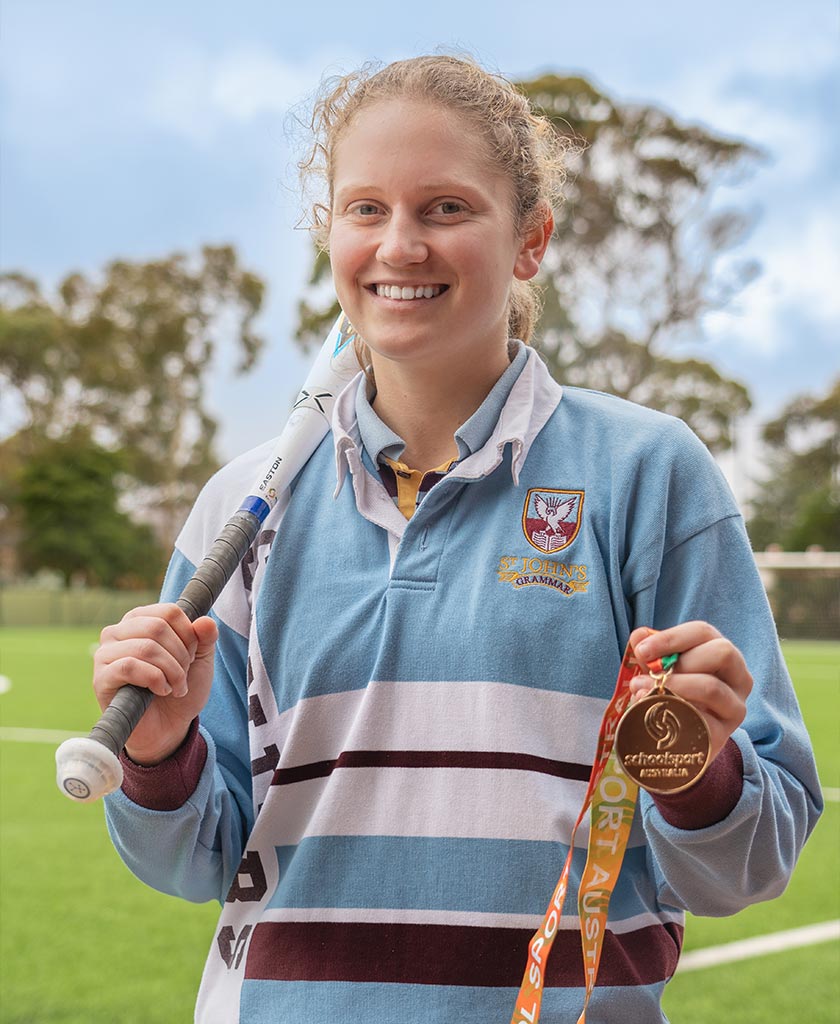 St John's Grammar's Secondary Campus sport provides a range of valuable benefits for students.
The advantages of sport participation reach beyond physical fitness, it also assists with character building and the cultivation of lifelong skills such as teamwork, discipline and perseverance.
We offer two main seasons – Summer (Terms 1 & 4) and Winter (Terms 2 & 3) and students can nominate up to two sports per season as long as the games don't clash.
Training sessions are generally held on Secondary Campus, either before or after school, or during break times. Matches are generally held after school or on weekends, depending on the sport. 
We encourage parent participation through coaching and team manager roles. 
More information about the range of sports on offer, and links to sport nomination forms can be found on our Extra Curricular page.
Instrumental Music Tuition
Music plays a crucial role in St John's Grammar School's education and development of students.
It offers numerous benefits that enhance their academic, emotional, and social growth. Recognising this significance, the School provides individual music tuition at both the Junior and Secondary Campuses. We offer a diverse range of musical instruments for students to choose from, ensuring that they have the opportunity to explore their musical talents and interests.
Instrumental lessons are held each week during Term. These generally take place during school hours on a rotating basis so that students do not miss the same subject lesson each week. However, special arrangements may be made for before or after school lessons where convenient for the tutor. Fees are to be discussed with the relevant tutor. Each student who enrols for instrumental/voice lessons at school is expected to attend all lessons.
Senior School Extra Curricular
A variety of options are available to suit a wide range of interests
In addition to Sport and Music, St John's Grammar offers a variety of extra curricular options in the Senior School.
With a variety of options – everything from academic pursuits and challenges, through to special interest groups, leadership and lunchtime clubs – our extra curricular program has something to offer everyone.